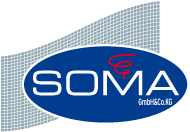 The company
SOMA GmbH & Co.KG was founded at the beginning of 2007 by Andreas Massold and Frank Sommer.
Our work focuses on the processing of technical mesh materials for use in filter and screen inserts.
Our goods are produced exclusively in Dotternhausen, Germany. We use established partners from the Baden-Württemberg region for associated machine and tool technology.
As a young, dynamic and constantly-growing plastic processing company, our production capacity is constantly being expanded.
Our customers come from virtually all industry branches around the globe.