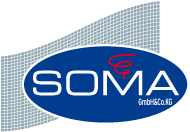 Website information
SOMA GmbH & Co.KG
Max-Planck.Str. 6
72359 Dotternhausen, Germany
Phone: +49 7427 4889-444
Fax: +49 7427 4889-511
E-mail: soma@soma-kunststofftechnik.de
General partner:
SOMA Verwaltungs GmbH
Registered head office: Dotternhausen
Register court: Stuttgart
HRB 723375
Registered head office:
Dotternhausen
Register court: Stuttgart
HRA 721517
VAT ID no.: DE253914748
Managing directors:
Frank Sommer, Andreas Massold
General terms and conditions:
Disclaimer:
SOMA GmbH & Co. KG has compiled the contents of this website with the utmost care and attention, and will update it on a regular basis. However, the contents of the website should only be used as non-binding general information. Information from the website does not replace a specific, individual consultation with the customer.
SOMA GmbH & Co. KG accepts no liability for the topicality, accuracy and completeness of the information on this website, and does not guarantee permanent access to it. SOMA GmbH & Co. KG is not responsible for the contents of links to external Internet sites, and remains detached from the linked content.
By accessing the link, you will leave the SOMA GmbH & Co. KG website. Offers from third-parties may therefore be subject to different terms and conditions, especially relating to data protection. SOMA GmbH & Co. KG also accepts no liability for minor negligence in carrying out their contractual duties and services. This especially applies to the download of files made available by SOMA GmbH & Co. KG on their website.
Data protection:
All data entered on the SOMA GmbH & Co. KG website is only saved and used for individual customer consultation, sending product information and service offers or processing queries. Your personal data will be kept confidential in accordance with current data protection guidelines.
Here is the link to the document of the data protection in German:
data protection